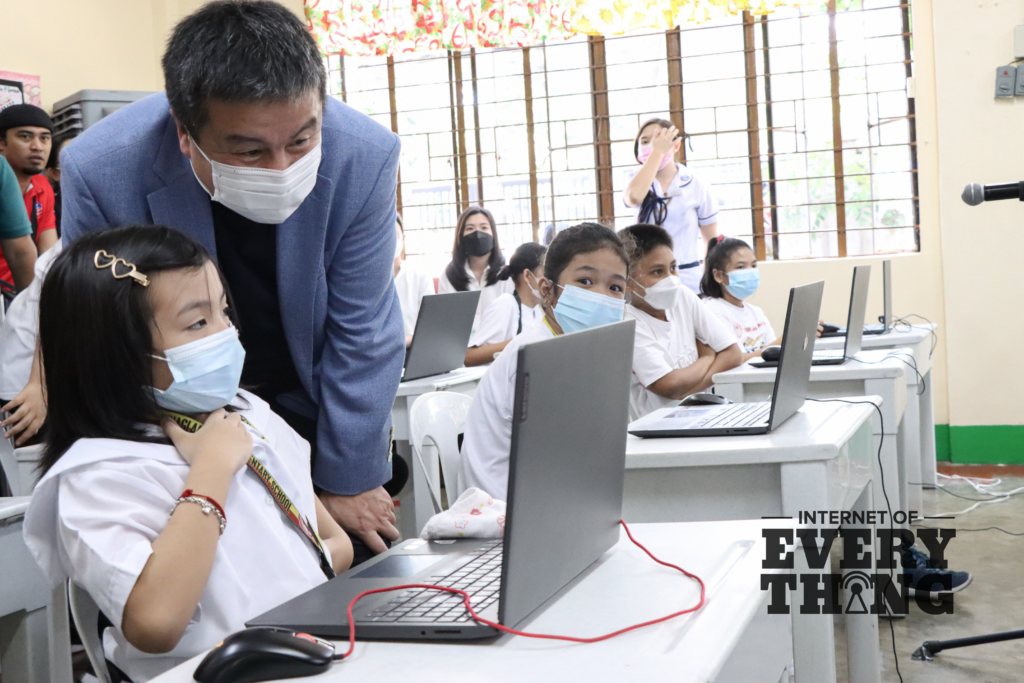 It was in 1994 that the Philippines first logged on to the worldwide web via a 64kbps connection. Internet usage grew exponentially since, migrating from dial-ups to fiber connections that allow up to speeds of 100 Mbps via the FiberX home broadband service, such as that provided by telecommunications company Converge.
The wide internet connection coverage was particularly crucial during the great digital migration made necessary by lockdowns imposed because of the corona virus disease 2019 (Covid-19) pandemic. Filipinos who had to stay home to stay safe depended on internet services to purchase essentials. Streaming services democratized access to entertainment and vital information and prevented a standstill in the business sector, as meetings and transactions were conducted online. Payrolls and retail POS systems also moved online.
Post-pandemic, more applications are being developed, particularly with the use of artificial intelligence (AI) to improve the customer service experience.
With all these innovations, Dennis Anthony Uy's Converge ICT was at the right place at the right time, as a telco company that offers wide coverage at competitive fiber-internet speeds.
It helped that Uy, as Converge chief executive officer, is immersed in the field of information technology. He built on his fascination for technology and the degree in Electrical Engineering he obtained from Angeles University in 1992 and pursued his passion by starting and scaling his information and communication technology (ICT) business. "What differentiates me from the other telco (executives) is they are looking at it from a business perspective – returns (on investment) and the bottomline – while I focus on infrastructure to reach our customers better," he explains.
A true-blue techie, Uy says he first looked into the Internet of Things (IoT) when it emerged more than 10 years ago. "For me, it represents a significant advancement beyond traditional internet connectivity. It has the capability to revolutionize industries, presenting unrealized opportunities to transform the way we interact with technology across a variety of fields. To maximize its capabilities, we need to keep up with these advancements and continue to foster its development, especially for industries that would greatly benefit from this."
He believed even back then, that by harnessing this technology, companies would be able to fortify their businesses and usher in greater efficiency, productivity, decision-making, cost-efficiency and customer service. "I see the future of technology and I believe in the possibilities of IoT to reinvent our industries and I want to deliver this game-changing technology to Filipino consumers, as well as micro, small, and medium enterprises."
Digital Solutions for Transformation
He says IoT was one of the country's great enablers during the pandemic when some organizations started employing. The organizations saw its transformative impact on efficiency, productivity and customer experiences even in the face of uncertainty. He now projects that, as sectors become more familiar with its benefits, more organizations will begin to invest in this technology. "The adoption of IoT is expected to catalyze the growth of the country's digital economy, which will enable new business models, enhancing our overall competitiveness."
Among the benefits of IoT that he expects is better time management. "Companies will have a better handle on their time – better business efficiency – if one integrates smart technology in operations. Systems automation limits human interaction in most business processes and devices can be programmed to work independently."
He adds that IoT will also help in better resource or asset management, as it can be used to monitor the condition and whereabouts of company assets. "For us, the health and condition of our fiber assets can be monitored remotely before and during deployment and can be integrated with Network operations to detect degradation or damage of the assets. IoT can also be used to see which assets are underutilized. It may limit asset wastage by (showing ways) to maximize such assets."
In terms of industry solutions, the possibilities are endless, he says. IoT may be used in the country for healthcare, agriculture and disaster-preparedness. "In advanced economies, it is being used in agriculture to monitor livestock health and condition. For a typhoon-prone country like ours, we can use early warning devices."
Advancing IoT in the Country
As for the future of IoT in the telco and ICT space, Uy describes it as "revolutionary", adding, "We should anticipate more integration of this technology by telcos to bolster cost-efficiency, accuracy, preventive maintenance, and proactive network monitoring. Additionally, the expertise of telco and ICT firms will play a critical role for the advancement of IoT."
For telcos, he says driving this innovation will allow the tapping of new markets and offering of new products and solutions. The necessary infrastructure, platforms and applications will be tailored to the unique requirements of customers and verticals. "These make IoT all the more appealing to telcos and ICT companies and I'm certain that embracing IoT will propel the sector as a whole, firmly positioning them at the forefront of the digital revolution."
Converge supports the acceleration of IoT adoption in the country as it experiences its advantages through its own operations. Uy says. "By also providing IoT solutions in the future, we will empower companies to optimize their processes, increase their productivity and efficiency, have better visibility in their operations, and improve customer experiences, inspiring others to follow suit. In doing so, we also set industry benchmarks to drive competition and promote greater adoption of IoT across industries."
He talks about applications that will soon become available as Converge aspires to broaden and innovate IoT solutions for consumers and various industry segments. "We envision offering IoT solutions for smart homes to reduce different household hazards such as water and gas leakage. Home automation is also another focus, enabling consumers to remotely control appliances, and monitor energy usage."
As for empowering industries like manufacturing, healthcare, and hospitality, he says automated systems, such as preset cooling and sensor-controlled lighting, can significantly optimize resource consumption, enable utility savings, and enhance operational efficiency. "Introducing these IoT solutions will transform the way businesses operate, delivering convenience, cost savings, and improved services," he explains.
Uy admits that adoption comes with challenges, including the fact that sensors are still expensive in the market. However, as IoT continues to grow and expand, Uy anticipates a significant reduction in prices. "Initially, only first-world countries could afford these expensive technologies but, with Filipino ingenuity and design, we aspire to create our own to drive down costs and make IoT accessible to Filipino consumers. This way, we will contribute to developing a robust IoT ecosystem in the Philippines."
Building on Data
Converge has built a partnership with Packetworx, which built the first network architecture for the Internet of Things (IoT) and the only IoT technology social enterprise in the Philippines, as part of its roadmap for advancing IoT and enabling it in the country. "I see this partnership with Packetworx to continuously evolve as the needs of the data center environment evolve as well. We are an ICT company; we want to be innovative and to integrate a level of digital intelligence to our operations. We are currently in the midst of a digital transformation as a company; we're reconfiguring our OSS and BSS to new systems and there is space in this transformation for the use of 4IR technology," says Uy.
With this partnership, he says, Converge and Packetworx need to build a business model first that will identify the usage per industry segment/sector. "Each industry's needs are different and we need solutions that are easy to implement and will have a significant impact. Building smart cities is the trend now, for example – we need to pilot test a solution that really makes a difference in how local governments manage such things as utilities in the city, or tracking the resources of the city. In terms of uses for the home, we also need success cases in functionalities such as gas leakage or fire detection. We need to have a successful demonstration of things and come out with a strong product."
The use of data center monitoring tools allows Converge the much-needed visibility in the data center environment – what is happening real-time. It also allows the company to respond to problems such as downtime or outages. "For a telco/broadband provider that also offers data center services, this advantage is important for us as we want to ensure smooth business continuity and continued uptime for our clients. Having these tools lead us to better troubleshooting, allowing us to identify and diagnose problems. For example, with IoT sensors deployed in a facility, metrics such as temperature, humidity, energy usage and asset utilization can be tracked. With the ability to track and monitor these factors, we can reduce inefficiency and boost performance. We can also monitor server performance through smart technologies, and help facility managers to be proactive in terms of equipment maintenance and component failure. These IoT tools can track network congestion and disk usage, making it easier to troubleshoot issues, recover from outages and avoid downtime," Uy explains.
Advocacy for Education
Converge, under Uy's leadership, is supportive of the education sector and promotes the harnessing of technology in learning, "The saying used to be that education is the great equalizer. In today's world, it is technology which is the great equalizer. Access to connectivity determines whether you'll do well in school or perform well at work. No one can survive without the internet anymore so my wife Grace and I made it our goal to bring connectivity to that sector that is most in need of assistance: education. With the government implementing blended learning, the need to digitize ways of learning is more crucial than ever. We need to get our kids up to speed with technology so they can do their schoolwork. They need to be digitally empowered in the way they learn and think. That is what will make them competitive in the workforce in the future."
While IOT is yet to be included in the academe, Uy is optimistic that this is the future direction of the country's educational system. "There is always going to be a 'catch-up' period for emerging technologies, especially here in the Philippines, like IoT. This is because there are so many technological changes going on. But in the more developed countries, I think it is slowly becoming the direction of the academe. They are incorporating the 4IR technology into their curriculum at the university level, some even in high school. What we can do is learn from their example – have people train abroad or allow knowledge transfer with the United States or Europe in these emerging technologies to help jumpstart the cultivation of local knowledge in these scientific developments."
He also suggests a tie-up with engineering and technology schools and help them incorporate technologies beyond the internet in their curriculum. "They need facilities like laboratories to pilot test these technologies. They need that kind of support, and build an ecosystem that encourages innovation and embraces new technology."
Enabling Philippine Digital Capabilities
Uy says Converge is ideally situated as a partner for Philippine progress through ICT. "We have the broadest FTTH network in the country today. I say that the infrastructure is there. The potential for a truly connected society is there, because the digital highway has been laid down. You need a fiber backhaul to the sensors, which act as access points in the IoT architecture, and we already have that network."
He adds, "You have to think of IoT as part of the larger wave of digital transformation. What you need to work on is interoperability of these different technologies in a way that works for society. If IoT is used, for example, in traffic management, is the digital infrastructure of the MMDA (Metro Manila Development Authority) ready to implement that technology? Or do they need more updated systems that talk to each other and connect in a seamless way? We are already in partnership with some local governments that are making use of our infrastructure for smart solutions, such as in safety and security. We are becoming the technology provider of choice in command centers for many LGUs including Baguio and Boracay. These are just stepping stones to a more advanced system but the potential is there. We just need to know how to maximize it."
Photos provided by Converge